Internet
How to Watch Deleted YouTube Videos Easily [ 5 Ways]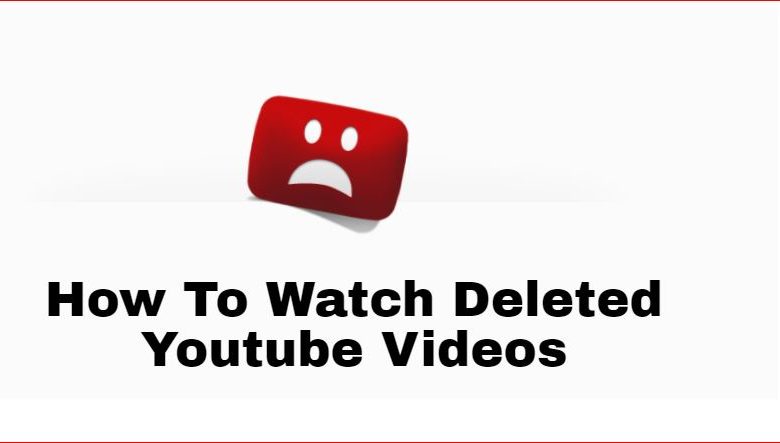 YouTube is a fun social media site. People may share anything via video content. That is why there are so many videos on YouTube. You may view the video as many times as you like. However, you will most likely be unable to locate your favorite video one day. Even though you tagged it as "Watch later," it appears to have been erased. Don't worry, we'll show you how to watch deleted YouTube videos right here.
You don't need to be concerned about this. Because other users typically republish or re-upload videos. As a result, one video may occasionally be found on a separate channel. However, because YouTube has tight and severe laws, a certain video will be fully removed. You won't be able to find it by putting the title or author into the search box. However, if you know how to watch deleted YouTube videos, this will not happen.
How to Watch Deleted YouTube Videos in Simple Ways
Before we go into how to watch deleted YouTube videos, you should be aware that YouTube has a wide range of videos. It's no surprise, given the explosive growth of YouTube channels. In 2019, there will be over 31 million channels, a 25% increase over the previous year. Furthermore, every minute, YouTube viewers create a video that is equal to 500 hours. Whether information comes from a large channel or a small one.
YouTube categorizes its materials since they are all unique. All videos deemed to have a problem or improper material will be removed. The most prevalent difficulties include the original copyright and trademark. If the original owner sends YouTube a "complete legal request" to remove a video, it will be removed. The trademark problem is related to YouTube's trademark rules.
Furthermore, in terms of improper material, it implies violating YouTube's policies. If you notice the statement "Video removed: Inappropriate content" on your result page, it means that the video was rejected according to YouTube's Terms of Service. Concerning the improper material, this might also occur with the reported videos. When someone complains a video or a channel to YouTube, the site will examine it in accordance with their standards and age-restricted policy.
YouTube employees are ready 24 hours a day, seven days a week to examine each report. They will respond to reports of nudity or sexual material, harmful or hazardous content, hateful content, violence, harassment and cyberbullying, spam or scams, threats, child safety, impersonation, and other extra policies on a variety of themes.
How to Find a Deleted YouTube Video
YouTube removes a video without informing the viewers. So, don't be surprised if you enter your watch list or favorites and the video disappears. If this is all you receive, then follow the instructions below to watch deleted YouTube videos. Do you recall the title or the account? That would make dealing with this problem simpler.
1. Go to YouTube
The initial step should be to go to YouTube. It is not for seeing the video because the video is not present. Simply login as usual and navigate to the video you want to watch. If you don't remember the URL, you may find it in your watch history or on your "Liked Videos" playlist. Keep the page open while you start a new tab next to it.
2. Go to archive.org
If you've already opened a new tab, put "archive.org" into the address bar. Click "go to" or hit "enter" to return to the main page. There are several icons as well as a search box with a "go" button.
3. Enter the URL
It's time to watch your favorite video again. Return to the previous tab during this stage. See the YouTube page we mentioned before. Copy the URL from the address box, then go to the archive tab and paste it into the search box.
4. Click Browse History
The Wayback Machine is adjacent to the search box. Check that you copied and pasted the correct URL into the box, then click the "browse history" option or just press the Enter key on your keyboard. Allow our website to assist you in locating the video you want to watch again.
5. Enjoy It!
You may have to wait a few minutes, but archive.org will provide you with the video's outcome. It will show you where you may find the deleted video in the past. You can recover or download it again if you wish to get it back. Then, view it normally and enjoy your time!.
Tips: The Wayback Machine website displays a number of years. Instead of selecting a recently archived page, which will also appear as a deleted page notice, select the oldest available year.
This is the most basic approach for watching deleted YouTube videos. You cannot, however, escape YouTube's policy, which commits to prohibiting particular content. Even though you adore and support the author, if the content violates the "Community Guidelines," it will be deleted.