Organizing and organizing your photos, movies, documents, contacts, and other files and folders on your Mac is a time-consuming operation, especially if you have a large number of files and folders.
If you are a professional photographer or graphic designer, you know how difficult and time-consuming it can be to rename your files one at a time.
In these situations, you want nothing less than the best file renaming software, which will allow you to batch rename many files in less than a minute.
We've compiled a list of the best free file rename software for Mac so you can choose the one that best matches your needs.
Best Batch File Renaming Software For Mac 2023
These are our top picks for the best batch file renaming programs for Mac. Let's have a look at them: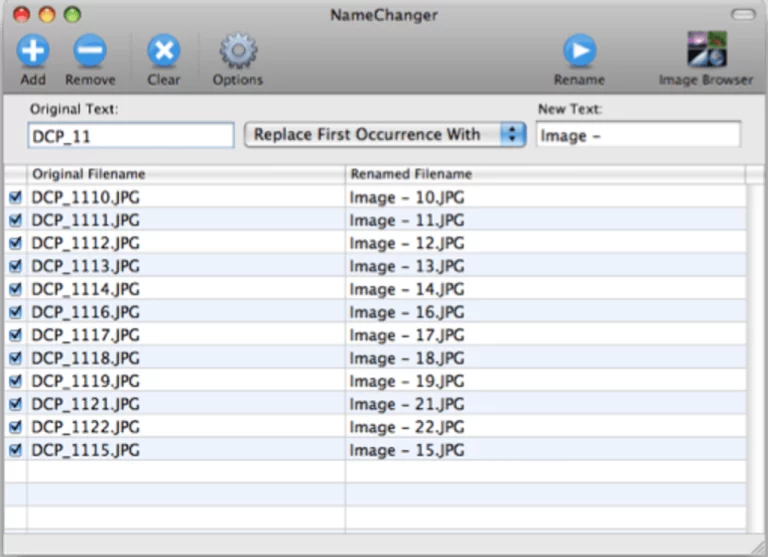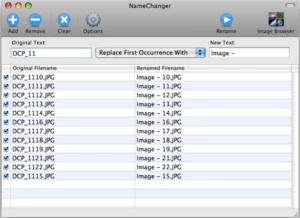 Check out this amazing utility from MRR Software if you wish to rename many files in masse. Drag and drop the files into the program and enter your criteria to rename them.
To alter the file names you've chosen, you can use the following criteria:
Replace First Occurrence with
Replace Last Occurrence with
Wildcard Append Character Removal Replaces All Occurrences
For Mac OS X 10.7 Lion and beyond, NameChanger is without a doubt one of the most well regarded file renaming utilities.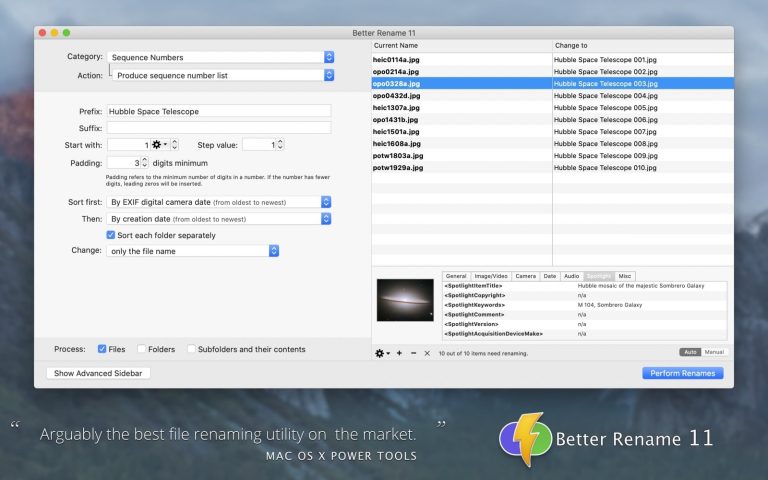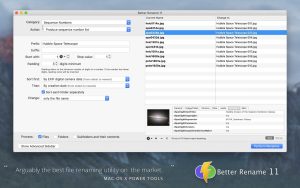 'A Better Finder Rename' is the name of the next file renaming software on our list. If you want to alter the names of tens of thousands of files in real time, it has a lot of potential. It provides a plethora of file renaming options arranged into 15 categories, as well as tools for text, tags, truncation, character, conversion, and more.
For instance, the character category includes the following topics:
Change particular characters
Delete specific characters
Just certain characters should be kept.
Delete any remaining spaces.
Vowels should be removed.
Furthermore, it works with all common picture formats, including JPEG, ARW, TIFF, HEIC, CRW, and so on. Because of this, it is one of the best free file rename programs on the market today.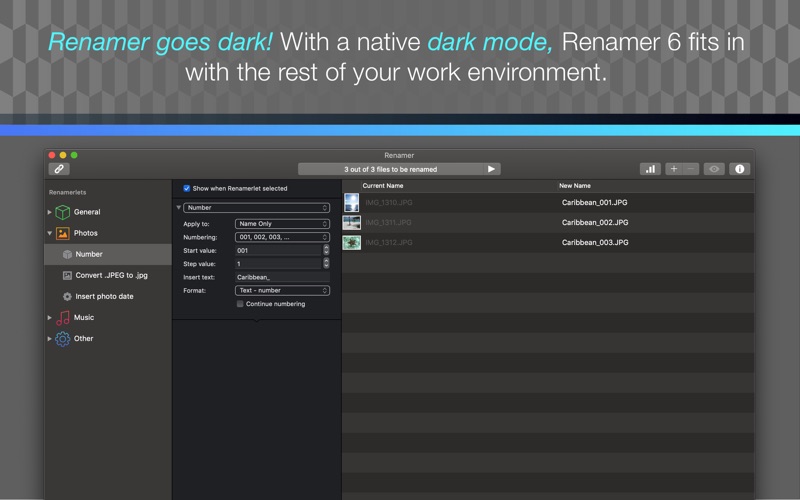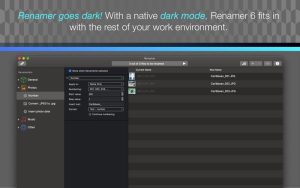 Renamer is a well-designed file renaming program that works with macOS 10.14 Mojave and higher versions.
It has powerful batch renaming features, allowing users to rename their files with the touch of a mouse. Below are some of its most notable characteristics:
Filenames should be converted to upper and lower case letters.
Add folder names
Alter file extensions, etc., Locate and replace text
Other from that, Rename features a straightforward UI that is developed with simplicity of use in mind.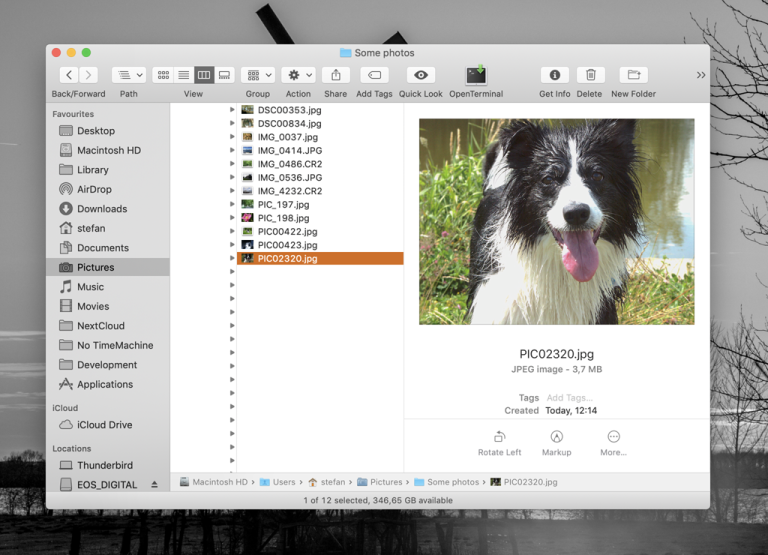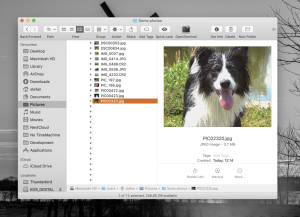 Among the best free file rename software for Mac, Exif Rename R is one of the most important choices. What distinguishes this software from others is that it automatically changes the names of freshly uploaded or downloaded files without the need for human participation.
Exif Rename can be used to achieve the following:
To the original filenames, add a prefix and a suffix.
Date and time should be added to filenames.
Include a data source
File preview, sequence counter, adjustable name styles, and destination folder creation are some of its other significant features.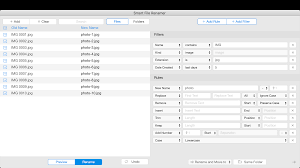 With the support of incredibly versatile rename patterns, it performs a good job of bulk renaming files, folders, or even whole hard drives, as the name implies.
As one of the best batch file renaming applications, it focuses on simplifying the file renaming process by giving a plethora of good features such as bulk rename, custom filters, photo information, audio tags, and much more.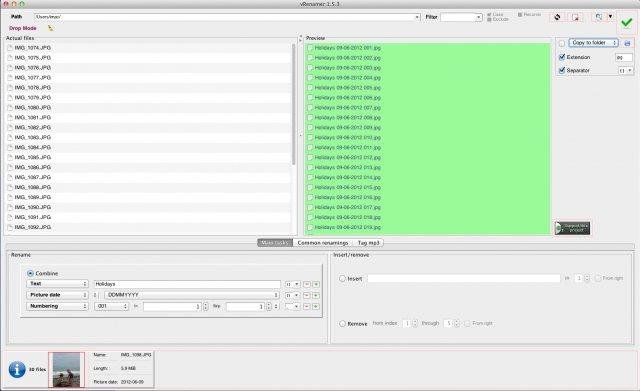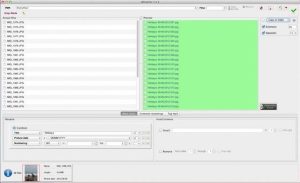 vRenamer is yet another feature-rich file renaming application for both novice and professional Mac users looking to reorder hundreds of objects at once. The tool's UI is fairly quick and straightforward, allowing you to effortlessly explore and accomplish your desired actions.
Following are some of its major offerings:
Drag & drop files or whole directories
Rename items from a Txt or CSV list.
Before renaming files, preview them.
Using image metadata, rename the file.
Rename music files using ID3 audio tags.
In the realm of mass rename apps, this tool, which is both simple to use and beautifully designed, certainly deserves greater attention.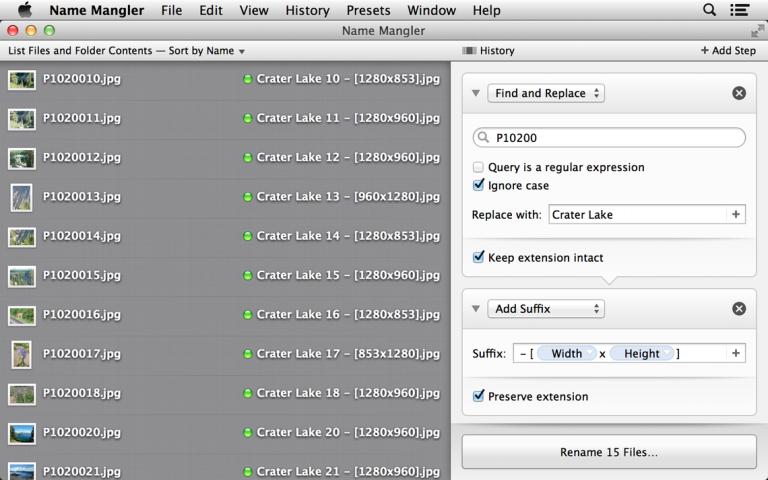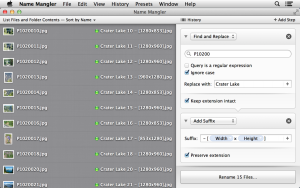 Are you still hunting for batch file renaming utilities for Mac? If you haven't already decided, have a look at some of the exceptional features of this application that make it worth investigating.
It's a very configurable tool with an easy-to-use UI.
Very quick software promises to be able to rename 5,000 things in under 3 seconds.
It provides over 150 metadata choices to help with the process.
Users may send emails to other Macs with their file renaming options.
Overall, Name Mangler performs admirably when it comes to renaming files in real time.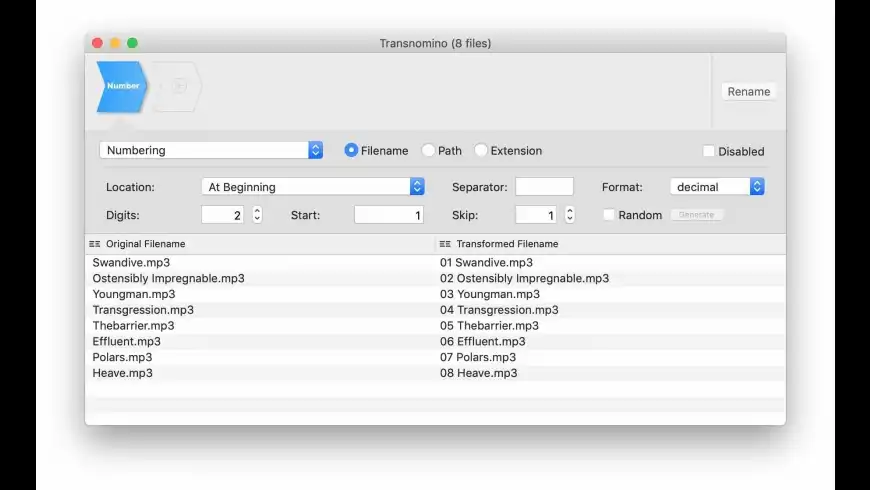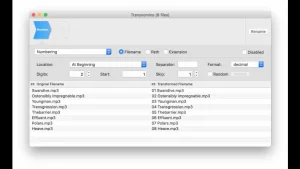 Transnomino can quickly rename the file to meet your needs. The software may add properties to the file name, such as EXIF data, ID3, date-created, and many more, in addition to just staying. The user can alter or delete the dates according to their preferences using the pre-set format. The software allows the user to add digits to the beginning and end of the name.
Following are some of its major offerings:
Files may be simply renamed by the user.
User-friendly interface
Add file properties quickly and easily.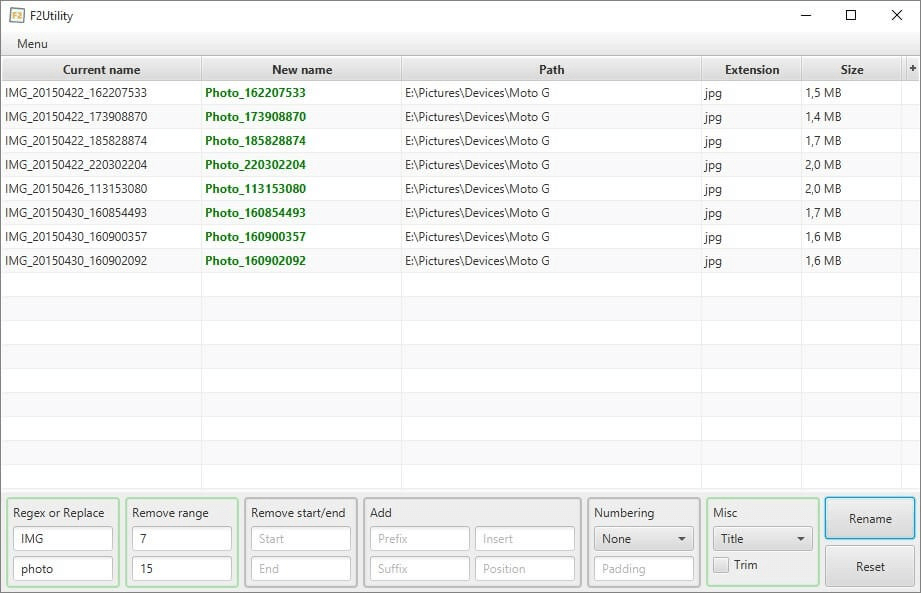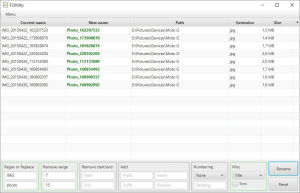 Without tools, the user may easily continue using F2Utility because the software provides simple functions that aid in file renaming. The user may create a new name, change it, cut it, and do whatever they want with this software. To rename a file, simply drag & drop it into the program. F2Utitlity is the best Mac rename software since it is so simple.
Following are some of its major offerings:
Append a prefix and a suffix to the name.
Regex or regular strings are used by the software to rename files.
File that can be renamed is suggested.
Simple and user-friendly interface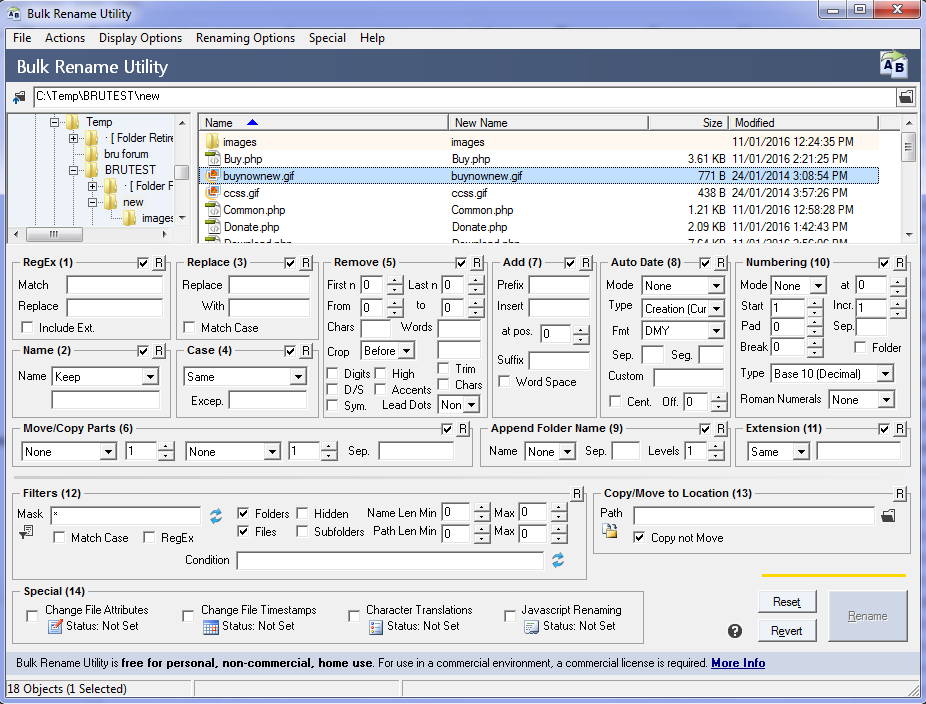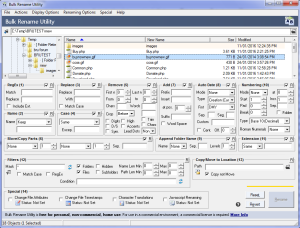 Another popular file-renaming software for Windows is Bulk Rename Tool. It is one of the best file renamers since it can rename many files and directories at the same time. The home screen may appear hard to beginners, but once you grasp how to utilize it, it will become second nature. Renaming files and folders has never been simpler.
The following are the main characteristics of Bulk Rename Utility:
Text in file names can be modified, added, and deleted.
Supports common phrases.
Both portable and installable versions are available.
Rename many files at once.
Rename MP3 files.
Removes the symbols or numerals.
Bulk Rename Tool is compatible with all Windows versions, including Windows 11, 10, 8, 7, Vista, and XP. You can use it in 2023 since it is powerful, lightweight, and lightning-fast file-renaming software.