When you have the correct music player, listening to music may be a terrific experience. This post will assist you in selecting the finest music player for Windows 10. Continue reading to learn more.
Music/songs are the finest creations that humanity have made since music may help people cope with unpleasant feelings. Music is the one thing that may help people cope with negative moods, no matter how horrible they feel. When you have superior aspects to accompany you, the experience might be enhanced. You can benefit greatly from the use of a music player.
Although the music player is intended to help you feel better when listening to music, some of you continue to use the default music program. Don't worry, we've covered the finest Windows music player in this post. So, without further ado, let's have a look at the list of Windows music players.
Top 12 Best Windows 10 Music Players to Try in 2023
The following is a list of the greatest music players for Windows 10, 11, and 8. Check out the list for further information.
1. Dopamine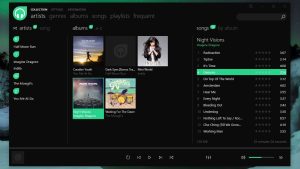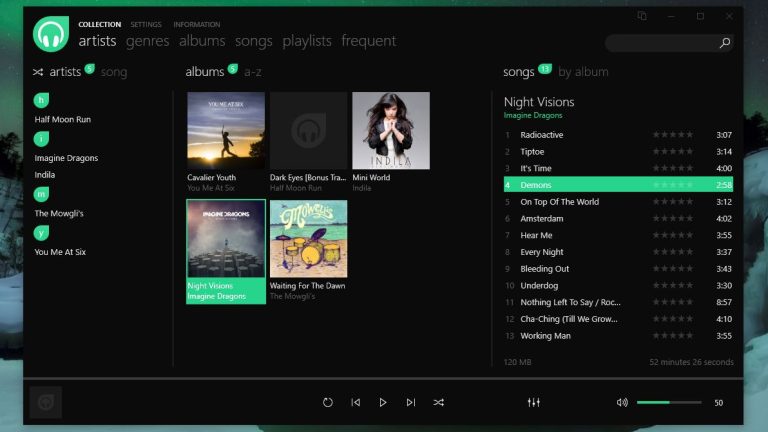 Dopamine is one of the top music players for Windows 10 since it is open-source software with a variety of features that most users appreciate. Starting with the download and continuing until the song ends, the program has no latency and operates at a respectable pace. The program offers an easy-to-use interface that allows one to quickly discover the option or settings that he or she is seeking for.
Most audio file types are supported by this Windows music player, including WMA, MP4, FLAC, AAC, APE, WAV, OGG, and OPUS. Even if this software does not have a long list of functions, you may locate the most important ones. The software has various capabilities such as automated meta-tagging, scrobbling, and lyrics display.
2. Winamp
Winamp rose to prominence in the 1990s and is currently regarded as one of the top music players for Windows 10. It is free software with a straightforward design. It comes with a multi-panel User Interface that you may modify using a range of choices. You may construct a library from the collection using the music player. You can also make a playlist, listen to music, sync smartphone data, and view visual effects on the screen.
The music player also has a built-in web browser. The browser may be used to search the web for your favorite music or playlist. The program became famous because to its custom skins, which may be used to make the software interface more appealing. You may use it with Windows 7, 8, and 8.1 in addition to Windows 10.
3. MusicBee
The following Windows player on the list is well-known among users. The app is called MusicBee, and it is regarded as one of the greatest music players for Windows 10. It is not only compatible with Windows 10, but also with Windows 7 and 8. The player offers a smooth and clean interface that every user desires, as well as a complementary color scheme.
The designers have thought about the consumers and made this music player free. It can also import songs from your iTunes collection. MusicBee is an option for Apple customers who want to migrate to Windows applications.
The software supports the majority of audio formats, including MP3, WMA, AAC, WAV, FLAC, APE, OGG, M4A, TAK, and many more. Your Android and iOS devices can even sync with the audio player. It also monitors the modifications you make to your hard disk and updates the library accordingly. If you didn't like the software's interface or color scheme, don't worry; it has a customization feature that allows you to quickly install plugins and skins.
4. foobar2000
Another excellent mp3 player for Windows is foobar2000. This music player has a modular architecture and an easy-to-use UI. You may quickly add additional components to the audio player and customize it to your liking. The best feature is that it does not charge the user anything; you may use it to modify it for free.
This music player is compatible with Windows 10 and previous versions. It also includes a portable installation option. You may select any setting that appeals to you and have the greatest music listening experience possible. You may also get a mobile version of the program. It works with both Android and iOS smartphones.
This Windows music player supports a wide range of audio formats such as MP3, OGG, AAC, FLAC, WMA, WAV, Speed, and many more. It can also open compressed files such as GZIP, ZIP, 7z, and many others.
5. AIMP
AIMP is the next best music player for Windows 10 on the list. This music player's name is taken from the creator's name, Artem Izmaylov. If you prefer the aesthetic aspect of a music player, then this program will be a deal breaker for you. It has the greatest user interface for organizing libraries and making custom playlists.
This program also has an equalization, which is uncommon in music players nowadays. It has an 18-band equalization and a variety of sound effects. With a single click on the player, you can simply change the theme of the playlist.
This player is compatible with both Windows and Android smartphones. This music player supports practically every audio format, so you may listen to songs in any format. Because of these compatibility choices and capabilities, it is one of the finest music programs for Windows 10 and previous versions.
6. MediaMonkey
This is another another free and excellent music player for Windows 10. MediaMonkey can assist you in organizing your collection. Though it appears to be an updated version of Windows Media Player at first glance, it provides much more. This software can automatically tag audio files, stream audio files, sync data from your devices, make CDs and DVDs, convert file formats, and manage volume automatically, among other things.
The app also has a separate jukebox for toggling between songs while you're partying. This music app is available for both iOS and Android smartphones. This program is free to use, but if you want to utilize the premium features, you must purchase the MediaMonkey Gold membership.
7. VLC
This is a popular program since it not only allows users to listen to music but also serves as a video player. Users' confidence has helped this program become one of the top music players for Windows 10 and previous versions. This is open-source software, which implies that anybody can use it.
Using the program, you can quickly construct playlists from your local music library, and if you like, you can even stream music over the internet. It also boasts a plethora of easily accessible online radio providers. The excellent audio management is one of the primary aspects that have made this program so popular. Unlike other music players, it has an equalizer as well as sophisticated features.
Aside from these capabilities, this Windows music player can play both audio and video files. This app can help you find music and video players. It is compatible with macOS, Windows, Linux, ChromeOS, Android, Windows Phone, Apple TV, and other operating systems.
8. iTunes
iTunes is the finest music player for Apple devices, but did you know you can use it on your Windows PC as well? You may effortlessly install the Windows music player and listen to free music for hours. Though this music player is only recommended for users with the most recent PC or laptop since it is hefty software that may interfere with the functioning of your older PC.
This program is bulky because it has so many functions that may assist the user have the finest music listening experience possible. If you have an iTunes music store, you can listen to music online as well, but if you don't, the music player will only play songs that are stored on your computer.
If you own an Apple device and have paid Apple Music, you may double your listening time with this music player. iTunes supports the majority of audio file formats, including MP3, AIFF, AAC, WAV, and Apple Lossless. Some of the software's standard features include compact mode, equalization, metadata import, and others. It works with Windows, macOS, and Android.
9. Windows Media Player
Who hasn't heard of this music player? This is the default music player that Windows users are provided with. The player's simplicity is the reason for its inclusion in the list of top music players for Windows 10. The nicest thing about this player is that you don't have to download or install it; it comes pre-installed on your computer.
If you don't like the default appearance of the music player, you may modify it by applying other skins. All audio file types are supported by this Windows music player. Aside from playing music, you may also watch videos with this software because it supports several video formats.
The app can import metadata from the internet and even organize your audio library across many devices. It, too, can share music collections via local networks, just like other third-party apps. This is one of the greatest mp3 players for Windows 10 and previous versions since it has all of the required functions.
10. Spotify
Spotify's popularity as a music player is steadily increasing. The number of people utilizing this platform has nearly doubled in the last several years. This music player makes the best music player for Windows 10 list because to its simple UI and customizable playlist. The program not only provides local material but also provides the user with access to online music.
You may see your friend's activity on the right side of the screen, much like the phone app. You may even listen to music and podcasts while driving, have a private session, or play tunes offline. Spotify can effortlessly stream millions of songs, so you'll be able to discover whichever music you want to hear. The program runs on macOS, Windows, Android, iOS, and Linux.
11. Clementine

Clementine is the next product on our list of the best music players for Windows 10. This is open-source software that provides the greatest library and database management possibilities. It also has a file manager that allows you to search for audio files online. The nicest thing about this music player is that it features an easy-to-use design that allows any user to browse.
You may use the program to make custom playlists and play music from CDs. If you want to effortlessly alter tags on MP3 and OGG files, you may do it using this program. CUE sheets are also supported by the program. Overall, it is an excellent choice for anybody seeking for the finest music app for Windows 10.
12. Roon
Roon music player provides a plethora of functions to its customers, which is why it is among the top MP3 players for Windows 10. Although this music player is not free, you must pay $12.99 per month to use it. The software's features are well worth the price.
Using the program, you may access extensive metadata such as reviews, ratings, release date, and music genre. To listen, simply search for the song or artist's name. It also displays music lyrics, which will help you comprehend the song better.